Purley and Coulsdon Dog Training Society
About our society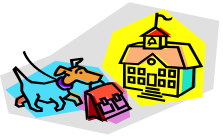 Purley & Coulsdon Dog Training Society was founded in 1957 with training classes taking place at Sanderstead Memorial Hall, where we still are every Wednesday evening.
Areas local to the Society are: Purley, Sanderstead, Coulsdon, Kenley, Croydon, Whyteleafe, Selsdon, Warlingham, Woldingham, Caterham, Shirley, Addington, West Wickham, South Norwood, Thornton Heath, Walington and Carshalton.
The Society specialises in Obedience training, we welcome dogs of all breeds and ages and invite you to come down and sit in on a class. You will then have the chance to discuss your training needs with our friendly and experience trainers.
Classes and Assessments
Classes
6.15 - 7pm: A 7 week puppy course including the Kennel Club Puppy Foundation Assessment leading to a certificate and rosette from the Kennel Club more...
7 - 7.45pm: A 7 week advanced puppy course for those working towards their Bronze Kennel Club Certificate.
7.45 - 8.30pm: A progression class for those who have either reached the required standard in the Puppy Course or have completed their Bronze Certificate and want to work towards the Silver Kennel Club Good Citizen Test.
8.30 - 9.15pm: The last class of the evening for handlers and dogs who have completed their Bronze test and want to take their training a step further more...
Those who want to progress further can be trained to work in Limited and Open Obedience Shows.
Good Citizen Dog Scheme
The Kennel Club Good Citizen Dog Scheme is the largest dog training scheme in the UK. Its aim is to promote responsible dog ownership and in turn, enhance our relationship with our pets and to make the community aware of the benefits associated with dog ownership more...